About This Course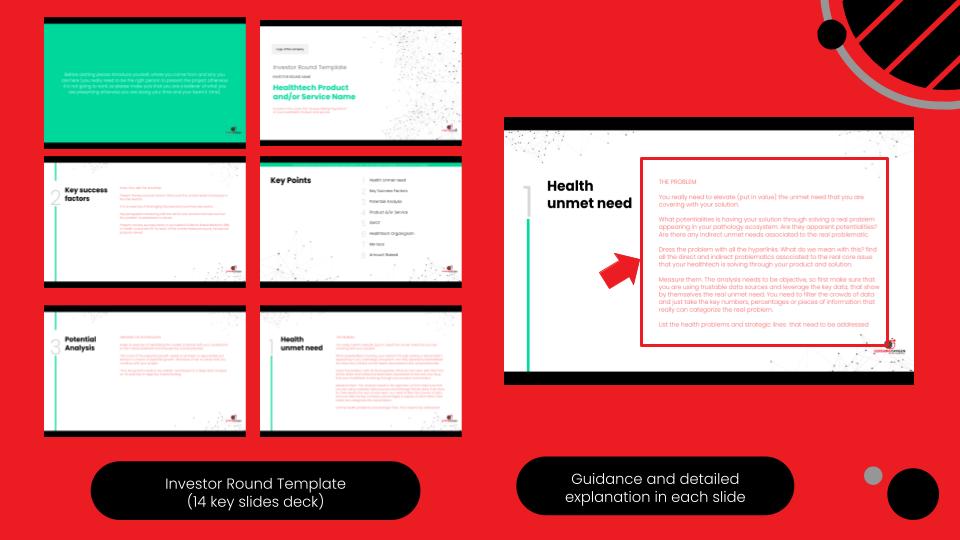 Investor Round Preparation Guide
Healthtech funding is essential when it comes to scaling up and expanding your health technological solutions to another level. 
With the Investor Round Preparation Guide you will find, in a single slide deck, guidance and strategic slides to fill out, using the recommendations included in each slide. 
A slide deck of fourteen slides, strategically selected in order to guide you to prepare and go to your investor round and succeed. 
A template to prepare your proposal for the investor round, to get the funding that will push your healthtech to the next milestone. 
DOWNLOAD THE INVESTOR ROUND TEMPLATE & GUIDE
What does this template contain? 
This template guides you to how to achieve your beloved fund in an investor round, the one that will help your business achieve the next milestone. 
It provides you with 14 strategic slides, each one of them filled with guidance and knowledge that will help you to be prepared for the moment of the truth. 
The guidance is synthesized with the essentialities you need to know in order to prepare a good presentation. It also suggests you provide the investors present in the investor round with some key contents. 
What are the benefits of downloading this tool? 
You will get confidence knowing the essentialities to be presented in an investor round that will help you drive your company to success. 

You will understand how to organize the flow of slides for an investor round efficiently. 

You will get tips on what to present and more than what, how to present it. Which parts need to be dipped into and what others need to be synthesized and simply get to the point. 

You will minimize the possibilities of not getting the fund for unnecessary reasons of the life presentation. 

You will be able to speak the same language and give the investors what they really want from you the day of the presentation. 

You will minimize the error margin. 
What does the slide deck focus on? 
The slides of this customizable presentation template are organized in an investor mind logical order.
They summarize 8 key points that investors really want to know about you. 
They include accuracy and guidance in order to help you to be able to easily present the strategic contents to be able to in a very short presentation give a nice overview for an investor really be able to decide whether he/she wants to get onboard and push for your project. 
They include the key analysis that you need to present in order to elevate your unique position. 
It helps you to leverage the potentialities of your project, product or solution in the healthtech field. 
Learning Objectives
This tool is to help you to be able to preapare a successful presentation for an investment round empowering you to do-it-yourself.
Requirements
Download the investor round slide deck kit. Read the comments and suggestions carefully contained in each slide. Customize each of the slides with your own value proposal following the guidelines.