About This Course
The healthtech and healthcare environments are changing.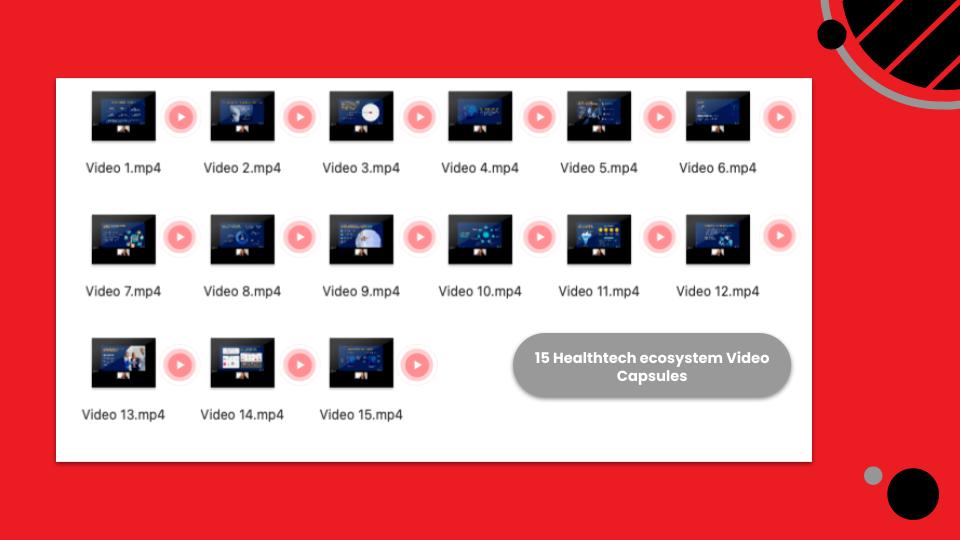 Defining a good strategy, though, and keeping it alive along with the transformational ecosystem changes is essential.
Today, keeping your healthtech business plan constantly updated is a must.
We do need to constantly fill it up with value.
And it is essential to succeed in the healthtech sector and to be able to deal with the changes in the healthcare environment.
What are you going to find in the healthtech ecosystem video capsules?
You are going to get easy insights of the current healthtech ecosystem.
Through video capsules from 1 to 5 minutes of duration maximum, you will easily get some key business insights. Some of the new key business strategies and methodologies that are up-to-date in healthtech.
Our Sunshineoxygen team invites you to see the vanguard short video capsules. They embrace different key subjects around the new essentiality's of the healthtech businesses of today.
We hope they can provide some information that can be useful for you and push your business towards the next milestone.
You will get few tips on how strategic synergies, and bridges of collaboration between key stakeholders are important in order to bring value to the healthtech ecosystem.
Yet we are open to your suggestions for new videos and new information that could be useful for you and your business around healthcare, let us know how to improve. Send us your suggestions!
Let's deep dive into the Healthtech Ecosystem
Learning Objectives
Sunshineoxygen invites you to this ecosystem overview. In this course you will get 15 video capsules of less than 5 min. duration, that will provide you with an updated vision of the healthtech sector and its peculiarities.
Requirements
You can see all of them or choose the ones you consider that will provide you the tips and knowledge that you are looking for.
Video Capsules
2.Let's conceptualize the healthtech ecosystem

00:02:39
3.Let's maximize our healthtech value.

00:03:43
4.Let's build our healthtech community.

00:02:14
5.Let's forecast the healthtech business strategies.

00:00:56
6.Let's put focus on the Why

00:00:51
7. Let's define our position in the healthtech ecosystem.

00:00:47
8. Let's speak about the trends of the new 2020s.

00:00:48
9.Let's define our target patient profile.

00:00:42
10.Let's deep dive under the KPIs surface

00:02:02
11. Let's optimize our Social Media SoMe Channels.

00:01:32
12. Let's build a sense of community.

00:01:20
13. Let's keep in mind the Healthcare Professional.

00:00:42
14. Let's build credibility through Evidence Based Medicine.

00:00:46
15. Let's set the basis of the new healthtech ecosystems of the future.

00:00:53